If you have not had the pleasure of Albert Lee's comprehensive articles regarding Emma Meesseman, check them out here and here.
So what has Meesseman been up to overseas? Here is a simplified look at her season with Sparta&K Vidnoje Region and the Belgian National team, also known as the Cats:
At first glance, there is something noticeable.
In 25 games this season, Meesseman's scoring is up four points on one additional attempt from her 2015 WNBA average. Meaning, her efficiency is even BETTER than when she was shooting the WNBA's second highest FG% last year.
She is shooting an astounding 64/38/90% through 25 games and averaging 16/8/3/1.7S/1.3B*/1.7F per contest.
*Blocks are loosely interpreted in Russia.
It is also clear that Meesseman got off to a slow start with Sparta&K.
In their first seven games, they went 4-3. She was delivering a season low 54/100/67%. Her performance in their last eight games shows a major improvement in consistency with an average of 70/50/93%. Their record stands at 16-5 through January 22, 2015. Including two wins against Napoli, their first round opponent in FIBA EuroCup Women, guaranteeing them a spot in the second round, where they will be facing Nantes Reze Basket on January 28.
If anyone needs a reminder of how Meesseman gets it done against one of the top teams in the W --the Chicago Sky in this case. Here is a video refresher on "she's a player" and "they are fun to watch":
And this is what you might see if you are scouting her on paper:
On January 11, 2016, Meesseman went off with 11/11, 3/3 and 9 Rebounds in 20 minutes, providing an unsolicited beat-down of Dynamo Moscow and a case for not playing down to an opponent. A snapshot of her stats and her shot chart is below: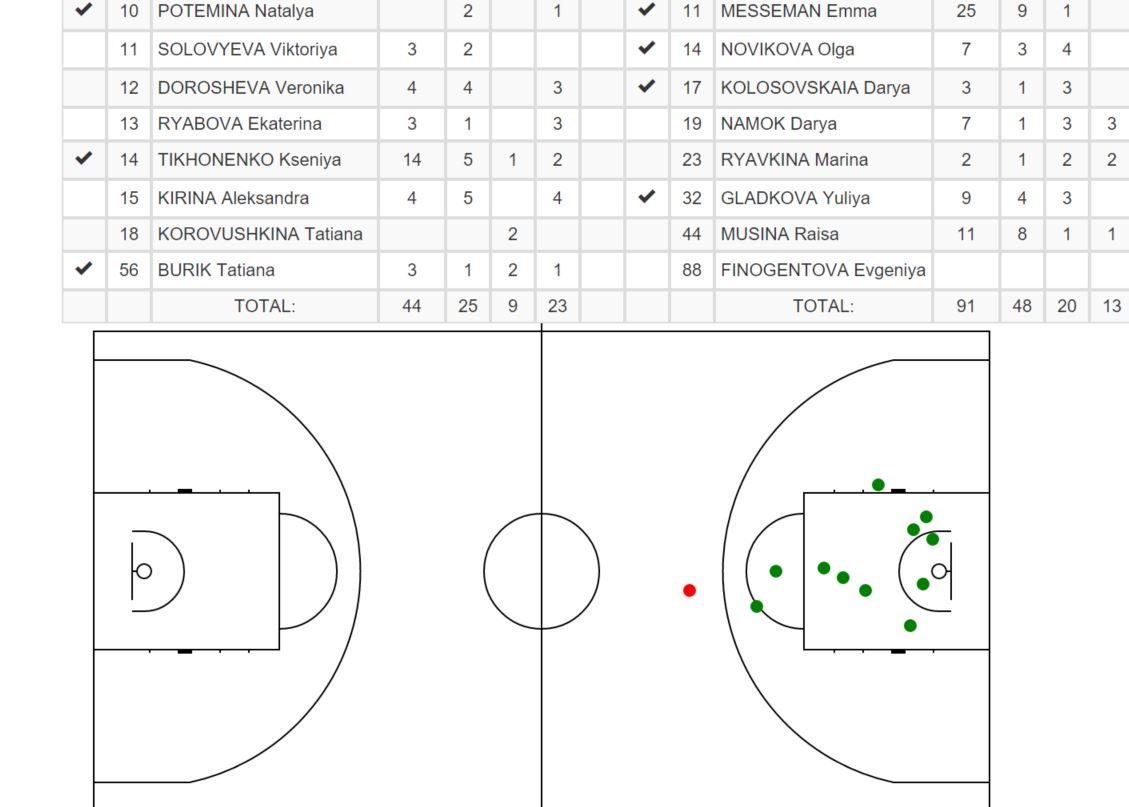 ( Photo origin )
But the most striking thing is that Meesseman brings her best for the Belgian Cats.
Meesseman registered her all-time high in FIBA competition with 31 points in that game. This is the second time in seven years of FIBA play that she has had 17 Rebounds. When you include her five Assists, Meesseman was involved in 41 of the team's 71 points, 58%. (Her four steals seem nice when you consider her career high was 11 in 2011.)
But what is especially telling to me about Meesseman's commitment to the Belgian Cats might go otherwise unnoticed.
Besides taking 33 percent more shots, Meesseman hit 22/23 free throws for the Cats, including 9/9 in a game against Belarus on November 25th, 2015. Remarkable, considering she did it in four games. In 21 games for Sparta&K, she has executed 30/35. That is 5.75 free throw attempts per game versus 1.6.
There is only one other instance where Meesseman has made more attempts, in 2011, when she won the Euro U18 Championship and the MVP Honors with her current Belgian teammates Julie Vanloo, Hannah Mestdagh, and Antonia Delaere among others. She made 36/55 free throws in nine games, that is 6.1 attempts per game, during that title stretch.
Being better than another team's defense is putting them in the position to foul out, among other things.
Does it speak to intensity, a mindset or coincidence that Meesseman's Sparta&K and Belgian teammates bring out the BEST in her?
Are the Mystics willing or able to do the same for her here in the States? I will explore this in further articles, but there is a case to be made that it would be worth the investment by the Mystics organization to put her in a position to be the focal point.