What better way to prepare for Game 2 of Wizards-Pacers than by reliving the ecstasy that was Washington's 102-96 Game 1 victory, its first second-round playoff win since freaking 1982, a good five years before I was even born.
That's right. Somehow, this is the best Wizards/Bullets team I (and I'm guessing many of you) have ever known. It just feels so weird, because only a few weeks ago we were worried about falling to the sixth seed and a quick postseason demise at the hands of the Heat. Now, after Game 1, most everybody is expecting the Wizards to finish off the top-seeded Pacers and end up playing the Heat in the conference finals.
Really, the Wizards (THE WIZARDS?!?!) are the toast of the NBA. They're the best story left, the team no one few people saw coming. Every other team left in the playoffs is either a perennial championship contender (Spurs, Heat, Thunder), was expected to make it to this point (Pacers, Clippers), or at the very least hasn't shocked anyone by getting out of the first round and summarily dropping its first game of Round 2 (Nets, Trail Blazers). Last year, it was the Splash Bros. This year, it's House of Guards.
Soak it all in, Washington. This team's going places. Now, let's win Game 2, and put this series to bed.
KEY LINKS
Road team recaps: BF StoryStream | Washington Post (gamer, sidebar, JReid column, Wise column) | DC Sports Bog (Barkley's guarantee, Gil trolls Roy) | AP | Washington Times (gamer, Loverro column) | CSN Washington (recap, Hibbert sidebar, Ariza sidebar, Gooden sidebar)  | Truth About It | Wiz of Awes | DC Pro Sports Report | Hoop District | District Sports Page | SI | ESPN (recap, keys) | Ted's Take | Wizards.com | Monumental Network | Daily Wizdom
Home team recaps: Indy Cornrows StoryStream | Indy Star (recap, gamer, sidebar, column) | 8 Points 9 Seconds | Pacers Pulse | Pacers.com
Postgame interviews: Randy Wittman | Bradley Beal | Trevor Ariza | John Wall | Nene | Marcin Gortat | Frank Vogel | Paul George | David West | Lance Stephenson
KEY STATS
0 - The stat that everyone kept citing after Game 1 was the double donut put up by Roy Hibbert in points and rebounds.
17 - The real stat of the game was Washington's 53-36 advantage on the boards. Not only did the Wizards outrebound the Pacers by 17, but they also collected 17 offensive rebounds to Indiana's six. That's some nice symmetry. This was particularly important because neither team shot well (41.7 percent for the Wizards, 40.7 percent for the Pacers), so those extra possessions were critical.
15 - The number of seconds the Pacers held a lead in Game 1. Indiana took a 31-30 lead on a pair of Evan Turner free throws at the 8:30 mark in the second quarter, but Nene made a layup 15 seconds later to give the lead back to the Wizards, and Washington never looked back.
TWEETS OF THE NIGHT
2nd round best matchup ain't even close!! Wizards vs Pacers!!

—

Jordan Crawford

(@jcraw55) May 5, 2014
Another TV timeout. Fan told John Wall he wanted him to sit down & get more rest. Wall: "I don't get tired." #wizards pic.twitter.com/GQtFsdfyrw

—

Michael Lee

(@MrMichaelLee) May 5, 2014
Fan told Drew Gooden that he thought Gooden had disappeared from league. Gooden said, "I did. They pulled me back in." #wizards

— Michael Lee (@MrMichaelLee) May 6, 2014
@HoopDistrictDC yes, waiter, I'd like a glass of "Bradley Beal blood"? Err... I mean, "ice water"?

— Jonathan S (@JS889208) May 6, 2014
The X factor @DrewGooden. Got a few laughs when they picked him up n I said that made them contenders. Thoughts now? #midrange

— Aaron Rodgers (@AaronRodgers12) May 6, 2014
I see you @DrewGooden outworking everyone !!! #dcRising #Wizards

—

Etan Thomas

(@etanthomas36) May 6, 2014
Bradley Beal #HOFBallot

— A. Sharif (@Abdu11ah) May 6, 2014
"We need to talk about your flare" RT @MikePradaSBN George had an opening on the flare screen. Stephenson missed him. pic.twitter.com/mhCtiMRm1C

— Bullets Forever (@BulletsForever) May 6, 2014
Beal has 23 points, seven rebounds, seven assists, five steals and a block, and he's not even allowed to have a Bartles & Jaymes yet!

— Dan Devine (@YourManDevine) May 6, 2014
The 'what's wrong with the Pacers' talk was a legit concern last round. This round, they may have just run into a better, hungrier squad.

— Michael Wallace (@WallaceNBA_ESPN) May 6, 2014
That moment when #sowizards goes from being a negative thing to a positive one. Our boys are for real. #dcrising

— Michael Jenkins (@JenksCSN) May 6, 2014
And one last one: Bradley Beal just became the seventh player in NBA history with a 25-7-7-5 line in a playoff game. http://t.co/u54nAClRvf

— Andy Hutchins (@AndyHutchins) May 6, 2014
Bradley Beal joins LeBron, Kobe, DRose & T-Mac has players 21 or younger to have 21 PTS, 7 REB and 7 AST in a playoff game. (@TommyBeer)

— NBA Legion (@MySportsLegion) May 6, 2014
Wizards r a team hitting their stride & gaining big time confidence. Wall is out to put the league on notice.

— Dominique Wilkins (@DWilkins21) May 6, 2014
Me and Roy Hibbert had the same amount of points and rebounds tonight.

—

Tracy McGrady

(@Real_T_Mac) May 6, 2014
Bradley Beal put himself in good company with his big game for the @WashWizards in Game 1 pic.twitter.com/DQ0F2GpcBv

— ESPN Stats & Info (@ESPNStatsInfo) May 6, 2014
This pic though... pic.twitter.com/o0mBvHT8qp

— WizardsXTRA (@WizardsXTRA) May 6, 2014
Agent 0 is ethering pic.twitter.com/eURNT5wNL9

— jarem yruhdwohc (@ChilledOnTheRox) May 6, 2014
Bealnoculars RT @_JakeRussell: Wizards photo of the night (AP Photo/Michael Conroy) pic.twitter.com/yNGyQjXNc0

— Zach Harper (@talkhoops) May 6, 2014
Paul George on Bradley Beal: "Bradley's a superstar in this league. He's on the rise." #wizards

— Michael Lee (@MrMichaelLee) May 6, 2014
Pat Riley. Mike Dunleavy. Randy Wittman. The 3 coaches in NBA history to win first 4 playoff road games #dcRising pic.twitter.com/pasggECoW5

— Hoop District (@HoopDistrictDC) May 6, 2014
Congrats to my friends Wizards Owner Ted Leonsis & GM Ernie Grunfeld on turning the Wizards into a team that can get to the ECF.

— Earvin Magic Johnson (@MagicJohnson) May 6, 2014
Good company to keep, @RealDealBeal23! pic.twitter.com/ZneG2XCunB

— Amin Vafa (@AminNBA) May 6, 2014
4 Away Games, 4 Wins pic.twitter.com/9LPYwJkOu6

— Sweden, DC (@SwedenDC) May 6, 2014
Wizards' Bradley Beal becoming a 'superstar' in #NBAplayoffs http://t.co/1Se7Fw0Q2r pic.twitter.com/x7RPYP6wZj

— Neil Greenberg (@ngreenberg) May 6, 2014
Death. Taxes. Randy Wittman winning road playoff games.

— Bullets Forever (@BulletsForever) May 6, 2014
Nats Park hosted the world's largest Wizards watch party last night pic.twitter.com/QRnuJFROlR (via @jmsmatthews) http://t.co/6SD0yuGJVq

— Dan Steinberg (@dcsportsbog) May 6, 2014
here a visual incite impression from we bout las nite's Wiz win pic.twitter.com/EgsnU8Ka8F

— WzzzzzzzNtzzzzzzzzzz (@wzzntzz) May 6, 2014
Even a One Seed Can Bleed pic.twitter.com/h87eiSagoP

— Sweden, DC (@SwedenDC) May 6, 2014
@BulletsForever Ariza this summer: pic.twitter.com/cLgEnVtRcp

— Sweden, DC (@SwedenDC) May 6, 2014
Wittman promised his team if they made it out the 1st rd that he'd dunk. Still waiting #WizardsTalk #NBA #WizPacers

— J. Michael (@JMichaelCSN) May 6, 2014
Trevor Ariza (+71) & John Wall (+57) lead all playoff players in plus/minus #Wizards

— David Devall (@McNubian) May 6, 2014
VIDEO/GIF(s) OF THE NIGHT
You've already seen these, but they still win.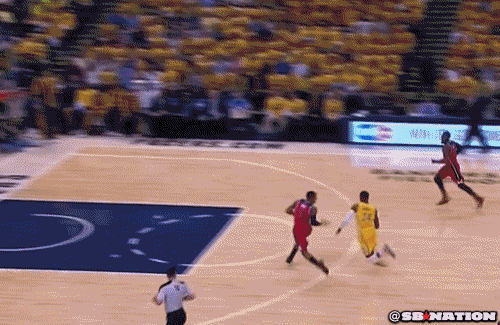 No, wait, I'm sorry. This wins.
FIRST HALF GAMETHREAD COMMENT OF THE NIGHT
SECOND HALF GAMETHREAD COMMENT OF THE NIGHT
GAME RECAP COMMENT(s) OF THE NIGHT
FIRST HALF GAMETHREAD ROLL CALL
SECOND HALF GAMETHREAD ROLL CALL