[Editor's Note: I shouldn't even be here, but still, here's Part 10 of 20. I'll get the Gus Johnson profile up soon (it has already been sent to me). -PM]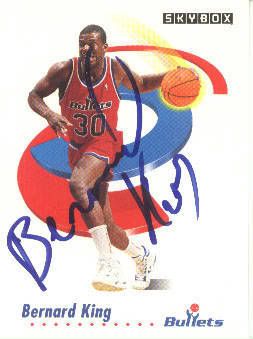 November 3, 1990:
The Capital Centre, Section 119, Row S, this was the scene for my first and probably only memory of Bernard King as a Washington Bullet.
I'll be honest, I was 12 years old, my uncle had season tickets and I was only in the arena that day for one reason: Michael Jeffrey Jordan. MJ and the Bulls were in town for the Bullets second game of the 1990-91 season. While that season would end for me with a celebration of the Bulls' first NBA title, that one night in November will be remembered by me as the night Bernard outgunned MJ.
Jordan was no slacker, putting up 28 points and grabbing 10 rebounds, but Bernard propelled the Bullets to a 103-102 upset victory with 44 points on 14-30 shooting and 16-21 from the free throw line. King also chipped in 8 rebounds and 6 assists. (yes I had to look up the stats)
On that night he sent me home unhappy, but for Bullets fans it was only the beginning of an amazing return to glory season for Bernard King. Although the team finished 30-52, the bigger story was King who averaged 28.4 ppg, which was good for 3rd in the NBA behind Jordan and Karl Malone. Also at that time, King was the oldest player ever selected to start in the All Star game.
The 1990-91 season was the culmination of nearly 6 years of hard work and rehab from a torn ACL in 1985.
To fully appreciate his comeback you need to know where King came from. A prep star at Brooklyn's Fort Hamilton High, accepted a scholarship to play at the University of Tennessee, where during the late 1970's he teamed with current Wizards GM Ernie Grunfeld to create the "Ernie and Bernie Show".
After averaging 25.8 points per game he declared for the 1977 NBA Draft. Drafted with the 7th overall pick by the Nets, King would average 24.2 ppg as a rookie to lead the team. His limited his growth as a player in his early years would be due to off court problems with drinking. After being dealt to Utah in 1979 and then traded to Golden State in 1980, King finally righted his personal life and career averaging 21.9 ppg while shooting .588% earning him the NBA's Comeback Player of the Year award.
After his first All-Star appearance and an All-NBA second team selection, King signed with the Knicks as a veteran free agent. It was under the bright lights of New York City that King would begin to flourish. At 6'7 205 lbs, King was the definition of an NBA small forward in the 1980's. Long arms, quick release, an explosive runner on the fast break, King was a tremendous scorer. Increasing his scoring average every year with the Knicks, Bernard would eventually in 1984-85 lead the NBA in scoring with a 32.9 ppg average.
The year of 1984 would prove to be King's greatest. On back to back nights, January 31st, and February 1st, King dropped 50+ points on the Spurs and Mavs. Named to his second all-star team King didn't stop there, the 1984 playoffs were all Bernard. In a 3-2 first round win over the Pistons, King scored 36 or more points in all 5 games, including 4 over 40. Averaging 34.8 ppg for then playoffs King and the Knicks would eventually lose in the Eastern Conference Finals to Boston in 7 games. Perhaps King's greatest game occurred on Christmas Day in 1984 when he poured in 60 points against his former Nets team.  He again would victimize the Nets for another 55 points only two months later.
The major knee injury in March of 1985 would rob Bernard of much more than games played and his career as a Knick. After missing all of the 85-86 season and all but 6 games of the 86-87 season, King was released by the New York Knicks, all but preventing the possible dominating pairing of King and 1985 #1 overall draft pick Patrick Ewing.
When he returned with the Bullets, lacking his former explosiveness, King developed a new "face-up" game, scoring most of his points with slashing moves to the basket.  King's tenure with the Bullets wouldn't help much in the win column. The teams coached by Wes Unseld would go 139-189 during the 4 seasons never finishing over .500 any season.
An operation to remove cartilage before the 1991-92 season would effectively end King's NBA career. After missing the entire season, the Bullets and King would part ways in January 1993. He returned to the team he started his career with and played 32 more games for the Nets before officially retiring after the 93 season. King would finish with 19,655 points and a 22.5 ppg career average.
One of the more glaring omissions from the 1996 NBA 50 Greatest Players list, King was named in 2006 to a group of the "next 10" selected by a panel of TNT NBA analysts celebrating the NBA's 60th Anniversary.
In 2004 King was nominated for election to the Basketball Hall of Fame. However he has not yet been elected. The lack of games played (874) and the large amount of high scoring forwards in his era, such as Larry Bird, James Worthy, Adrian Dantley and Mark Aguirre may be keeping his election on hold.
Whether he is inducted or not can be debated forever, all you need to justify how great Bernard King was is to remember two things, His tremendous scoring ability, and the 1984 Kurtis Blow rap classic " Basketball" where he is mentioned along with two of the Greatest of All-Time.
"...Basketball has always been my thing, I like Magic, Bird and Bernard King"